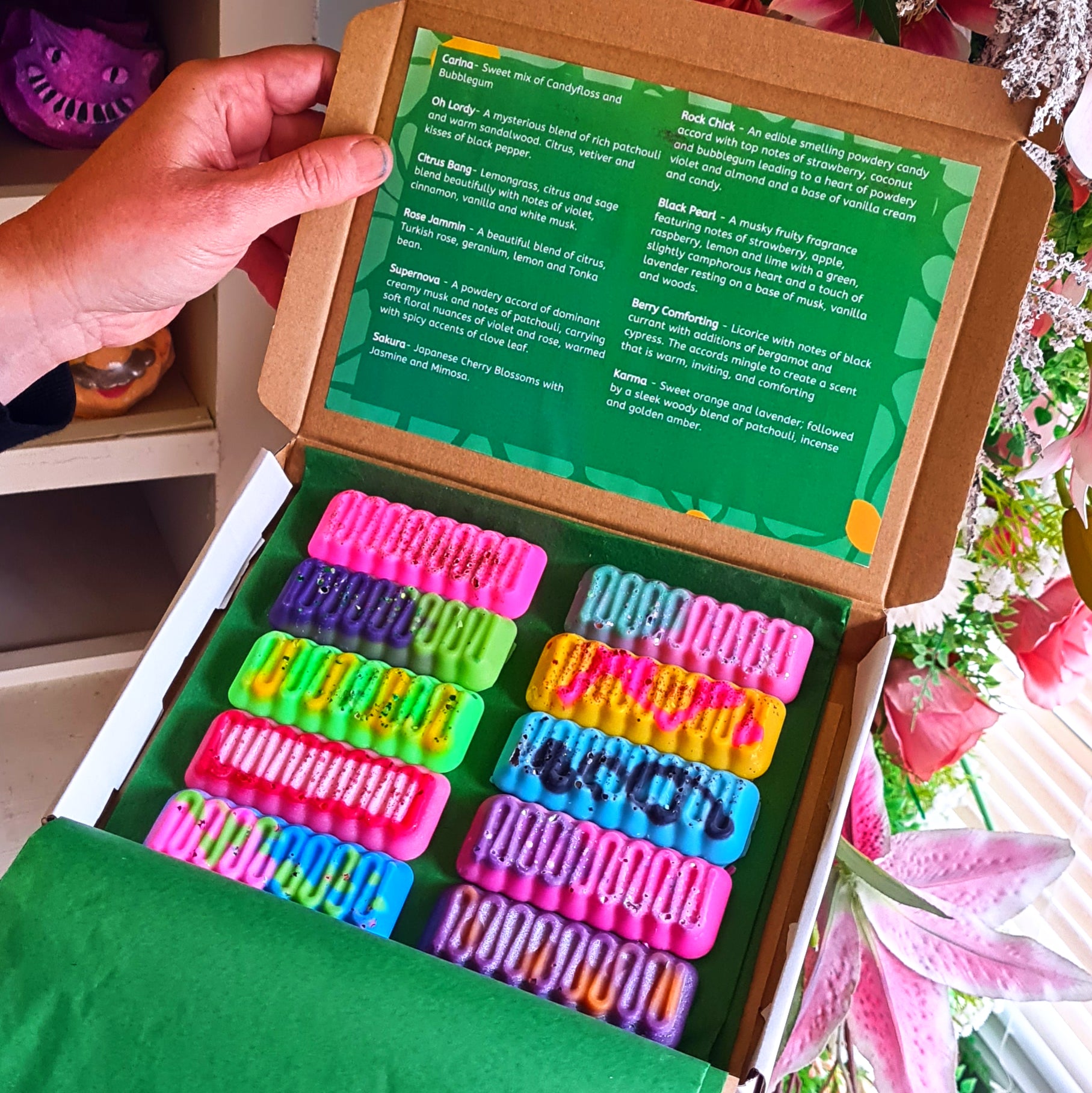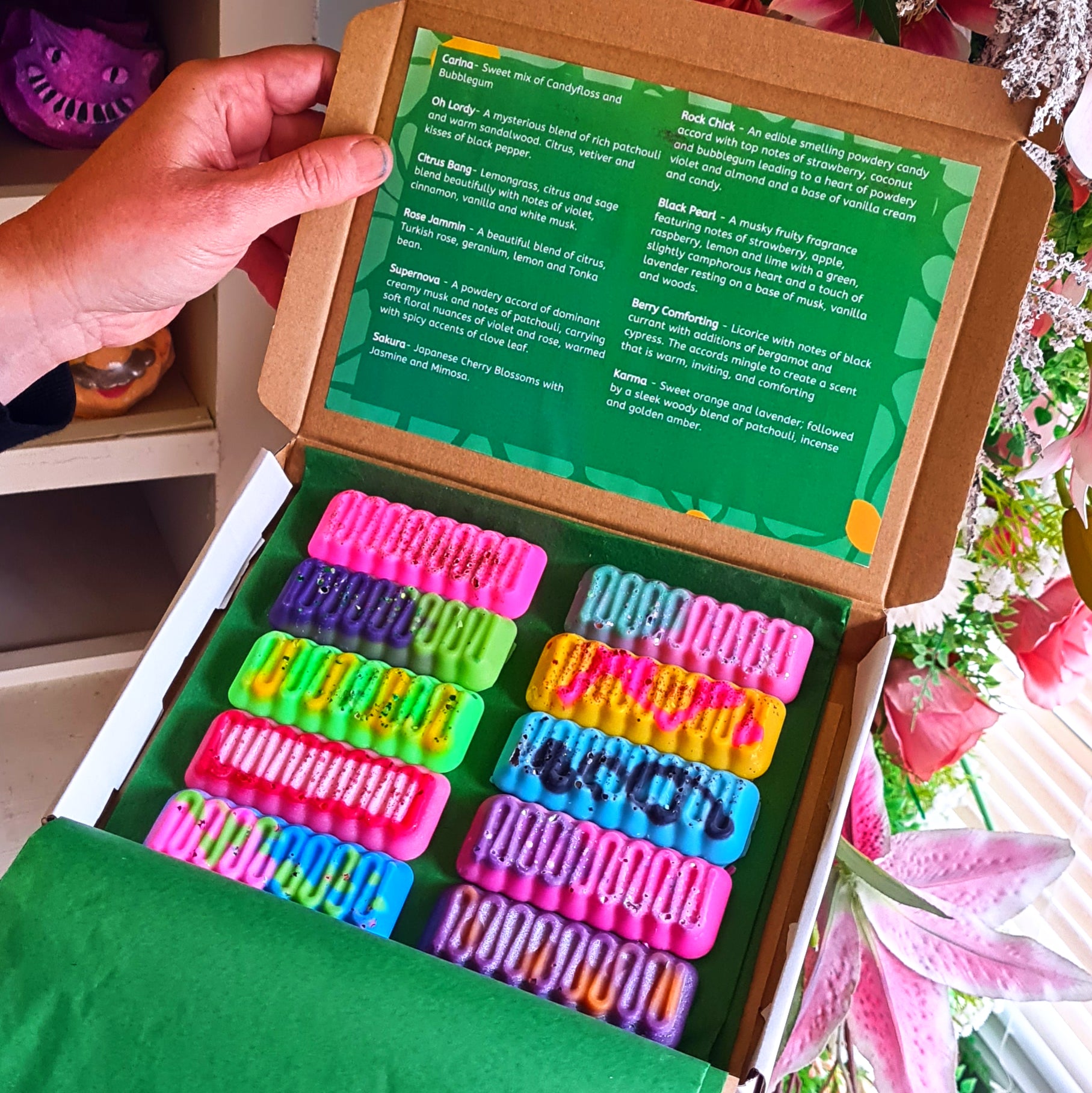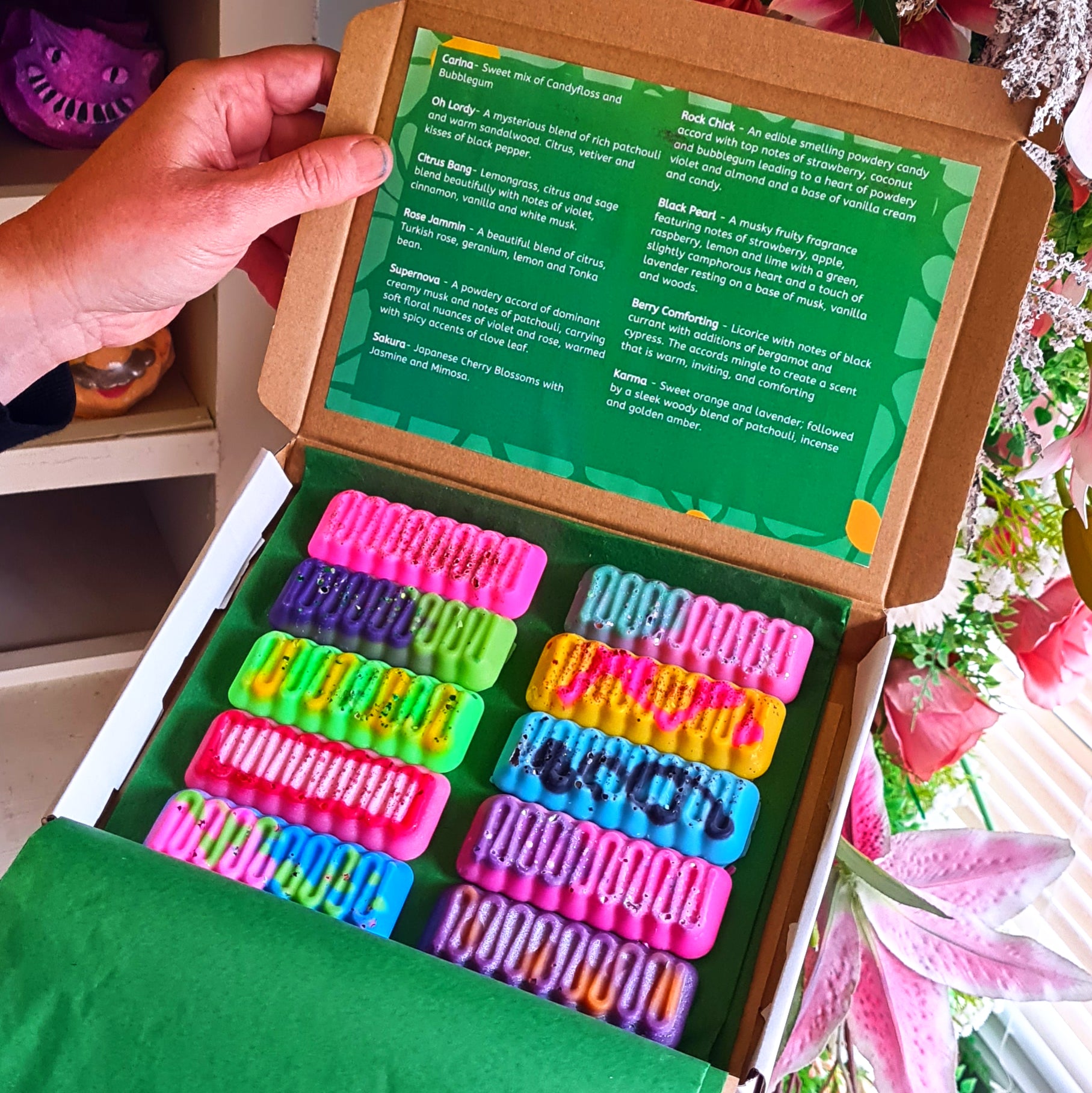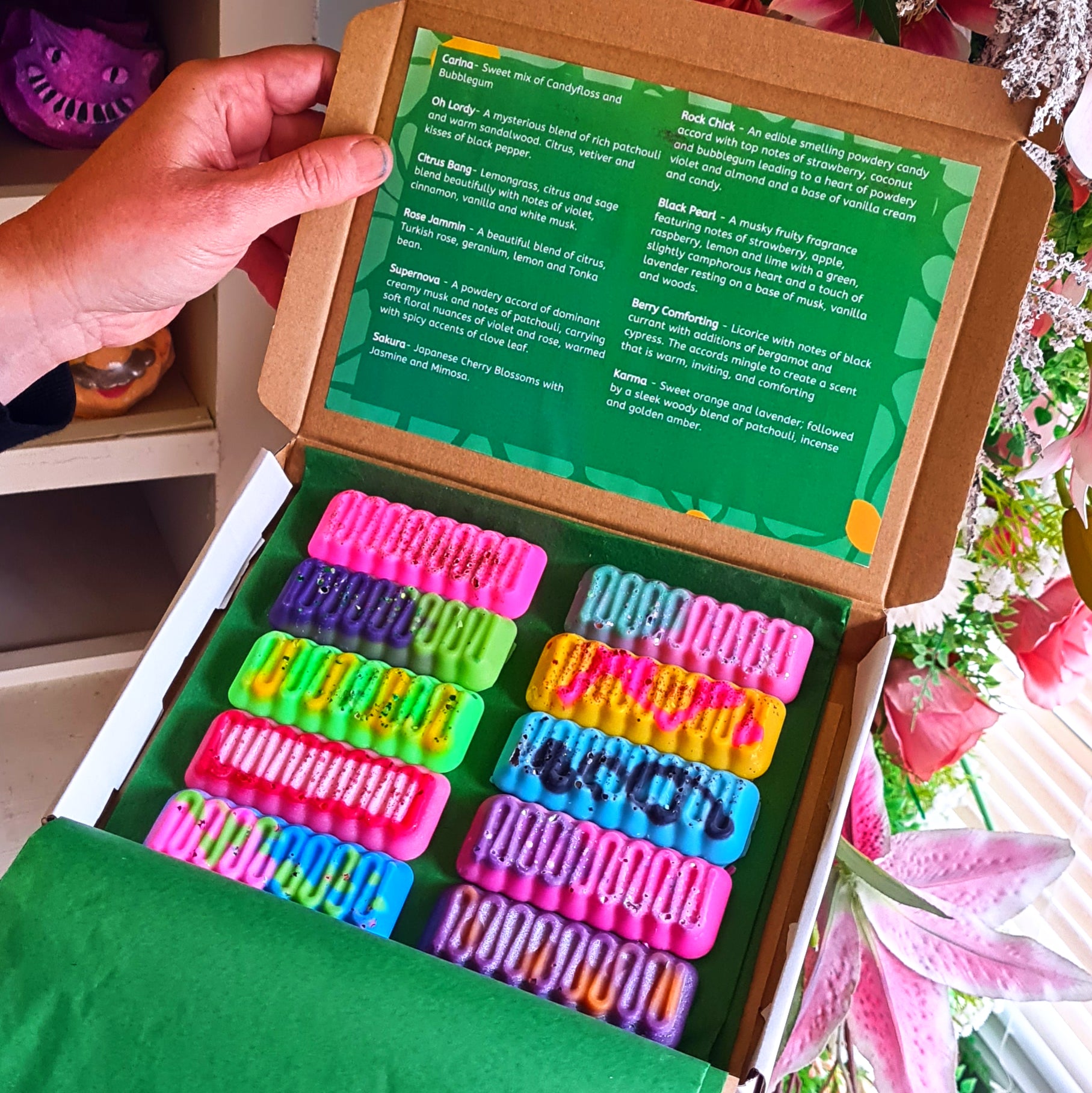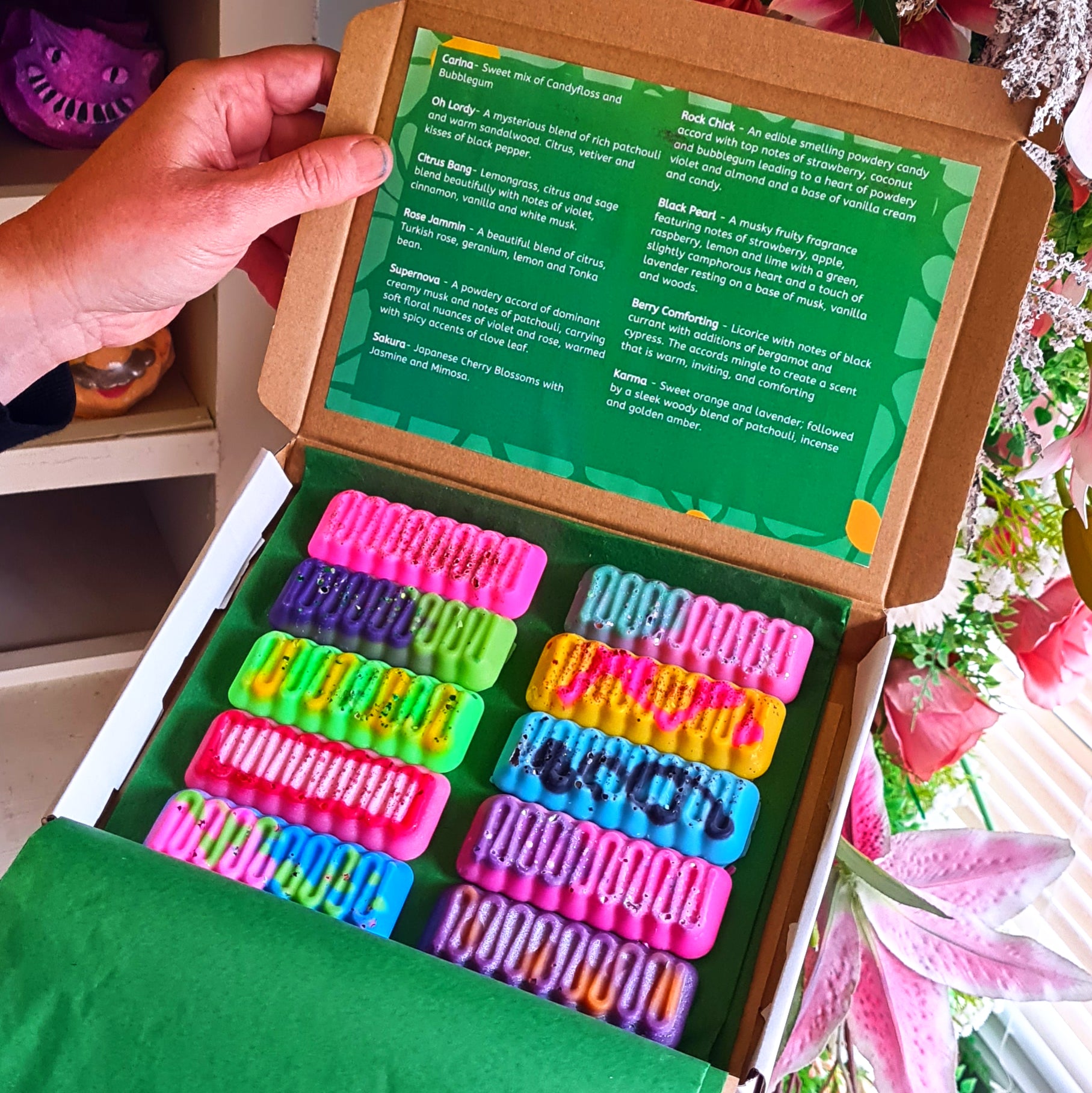 That Smells LUSH! Wax Collection Box
A Wonderful Collection of Ten Scents especially for the LUSH lovers out there!
The set contains ten individually wrapped Wax Bars, each of which can be used whole or split in two. The bars weigh 20g each.
These bars are suitable for both Tealight and Electronic Wax Warmers/Burners.
Carina (Snow Fairy)- Sweet mix of Candyfloss and Bubblegum
Oh Lordy (Lord Of Misrule)- A mysterious blend of rich patchouli and warm sandalwood. Citrus, vetiver and kisses of black pepper.
Citrus Bang (Avobath) Lemongrass, citrus and sage blend beautifully with notes of violet, cinnamon, vanilla and white musk.
Rose Jammin (Rose Jam)- A beautiful blend of citrus, Turkish rose, geranium, lemon and Tonka bean.
Supernova- A powdery accord of dominant creamy musk and notes of patchouli, carrying soft floral nuances of violet and rose, warmed with spicy accents of clove leaf.
Sakura- Japanese Cherry Blossoms with Jasmine and Mimosa.
Rock Chick (Rock Star)- An edible smelling powdery candy accord with top notes of strawberry, coconut and bubblegum leading to a heart of powdery violet and almond and a base of vanilla cream and candy.
Black Pearl- A musky fruity fragrance featuring notes of strawberry, apple, raspberry, lemon and lime with a green, slightly camphorous heart and a touch of lavender resting on a base of musk, vanilla and woods.
Berry Comforting (Comforter)- Licorice with notes of black currant with additions of bergamot and cypress. The accords mingle to create a scent that is warm, inviting, and comforting
Karma- Sweet orange and lavender; followed by a sleek woody blend of patchouli, incense and golden amber.
Classification, Labelling and Packaging (CLP)


Our products are thoroughly tested, following strict guidelines illustrated in European Regulation (EC) No 1272/2008 to ensure your safety.
May cause an allergic skin reaction. Harmful to aquatic life with long-lasting effects. Keep out of reach of children.

Dispose of contents/container to an approved disposal site, in accordance with local regulations.
| Vegan | Store in a cool, dry place | Use within 24 months | 
 *Weight is approximate as they are handmade items